1.16.2023
TOP STORIES
Hawai'i lawmakers are usually a cautious bunch, but the new governor wants action
Many lawmakers are accustomed to the unassuming style of the former governor, but Gov. Josh Green is a different breed. He's known for making pitches directly to the public and appears to be already advancing his political agenda. Civil Beat.



Legislature is testing Green's agenda


The relationship between the state Legislature and Gov. Josh Green's administration is off to a bumpy start even before the 32nd legislative session begins Wednesday. Star-Advertiser.



Housing woes top agenda as lawmakers return this week


Affordable housing, expanding pre-K education and addressing corruption are top of the agenda as lawmakers return this week to the state Capitol. West Hawaii Today. Maui Now.



State Sen. Mike Gabbard to push for Green Amendment


Gabbard announced plans to introduce a proposed constitutional amendment that would add environmental rights to the state's Bill of Rights. Garden Island.



Planned bill would ban TikTok on state-issued devices


State Rep. Gene Ward plans to introduce a bill to prohibit the popular app from state-issued devices, joining a national push to prevent breaches of sensitive information to China. Star-Advertiser.



Rocks or glass? Hawai'i weighs alternatives to water in Capitol pools


The state Department of Accounting and General Services is asking lawmakers for $33.5 million for the pool rehabilitation project. Civil Beat.



Bounty offered for derelict fishing gear


Under a new program launched by Hawai'i Pacific University, eligible commercial fishers can be paid for removing derelict fishing gear, which is some of the most harmful litter in the ocean. Star-Advertiser.



What's open or closed today


Here is everything you need to know about the departments and services that will be affected by Martin Luther King Jr. Day. KHON2.


HAWAII BUSINESS MAGAZINE
Black Book 2022: 361 Hawai'i Executives You Should Know
This "who's who" tells you about their jobs, the boards they serve on and causes supported, their proudest accomplishments, and more....
read more.
OʻAHU
Chinese New Year festivities returned to Chinatown
Over the weekend, fireworks, the beat of drums and lion dances were welcomed by Chinatown businesses, in a long-awaited restart of the annual celebration. Hawaii News Now. KHON2. KITV4.



"Safe and Sound Waikiki" has resulted in 456 arrests so far


In its first four months, the new program referred hundreds of arrests to city prosecutors — progress that has been overshadowed by recent violent crimes. Star-Advertiser.



City Council considers tougher "sit-lie" enforcement near O'ahu schools


The measure is prompted by a report that parents dropping their children off at Waipahu Elementary School were threatened by a knife-wielding couple living at a nearby homeless encampment. Star-Advertiser.



Department of Health no longer wants two O'ahu hospitals


The Legislature passed a bill in 2021 requiring Leahi Hospital and Maluhia nursing home to be transferred from the Hawai'i Health Systems Corp. to the state DOH to help treat mental health and substance abuse problems. But now DOH officials say the move would be too cumbersome and costly. Star-Advertiser.



Two high-profile attorneys could be disqualified from Miske case


An attorney representing alleged crime boss Mike Miske has asked to withdraw from the case that accuses the Honolulu businessman of murder, kidnapping, racketeering and other crimes. Hawaii News Now.



New Central Oʻahu solar and battery farm said to benefit 7,600 homes


Clearway Energy Group announced that its 36-megawatt solar farm in Waiawā is ready for commercial operations. Hawai'i Public Radio. Star-Advertiser.


HAWAII BUSINESS MAGAZINE
Your Next Hire Should Be a "Hidden Worker"
Nontraditional workers such as former veterans and caregivers often outperform traditional employees. The gains are widespread, according to executives with companies that hire substantial numbers of hidden workers..... read more.
HAWAIʻI ISLAND
Big Island lawmakers share priorities for legislative session
Lawmakers plan to address affordable housing, Hilo Medical Center's expansion, a Banyan Drive revitalization, the general excise tax, marijuana and other issues when the new session opens Wednesday.
Tribune-Herald.
Captain Cook Fire Station to be renamed Kealakekua Fire Station without public input
County officials say the name change is permitted, but it has raised eyebrows among some community members, including a former councilwoman and two lawyers.
West Hawaii Today.
Public input sought on zoning codes
Residents are encouraged to attend a pair of public meetings this week to discuss updates to Hawai'i County's zoning and subdivision codes.
Tribune-Herald.
"Shared solar" program could benefit 1,500 households
Big Island households could receive credits to lower their energy bills through an effort to develop solar installations in Nā'ālehu and North Kona.
Tribune-Herald.
BLNR loosens pig-hunting restrictions in three Puna forests
New state Board of Land and Natural Resources rules increase the daily bag limits from two to four pigs per hunter, and allow hunting in designated reserves every day.
Tribune-Herald.
HAWAII BUSINESS MAGAZINE
How 5 Hawai'i Families Built Generational Wealth
Family businesses rarely last for three generations. Here's how the Ai, Fukunaga, Watumull, Hata and Lau families did it....
read more.
MAUI COUNTY
Maui lawmakers express mixed feelings about Gov. Josh Green's proposals
As lawmakers head into the legislative session on Wednesday, some are ambivalent about proposals for a tax rebate for middle- and low-income families, as well as eliminating the general excise tax on food and some medicine.
Maui News.
Opening of Kūlanihāko'i High School delayed
The opening of the new $120 million school has been pushed back from its scheduled date of Jan. 18 because it still lacks a safe pedestrian crossing.
Maui News.
Hawaii News Now.
State looking into toxic chemicals in soil at Maui airport
Chemicals found in firefighting foam were detected in soil at Kahului Airport and in the groundwater below, according to the state Department of Transportation. Testing for the substances is underway at other airports across the state.
Star-Advertiser.
U.S. military returns land on Moloka'i
Military and state officials said Friday that the Air Force has returned 363 acres it leased on Moloka'i to the Department of Hawaiian Homelands.
West Hawaii Today.
Maui News.
KAUAʻI
State Land Board is sued over permits for former Coco Palms site
A civil complaint recently filed by a community group claims the board failed to comply with environmental review law when it granted annual revocable permits to a defunct company to build a new hotel at the former resort property.
Star-Advertiser.
Brue Baukol lays out plans for 18,000 acres of newly acquired Kaua'i land
Colorado-based investment firm Brue Baukol Capital Group is now the island's third-largest private landowner, with 10,000 acres of conservation land in Wainiha Valley, 5,000 acres of agricultural land on the South Shore and a luxury development in Kukui'ula.
Garden Island.
DECEMBER ISSUE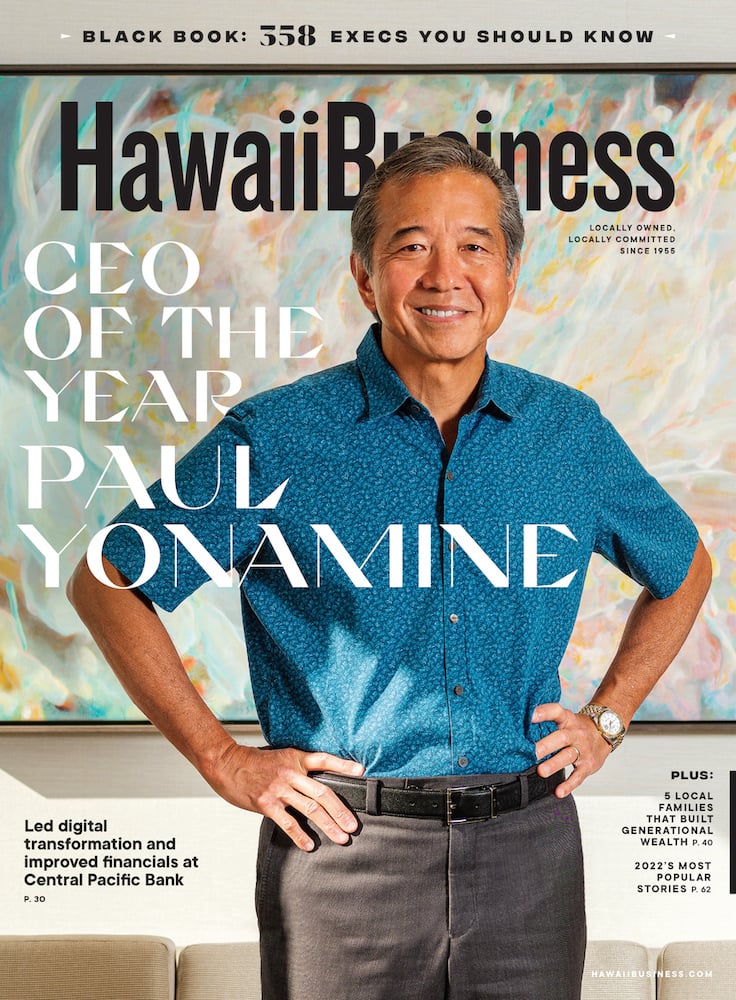 Dive into some of our latest features!
2022 CEO of the Year: Paul Yonamine of Central Pacific Bank
How 5 Hawai'i Families Built Generational Wealth
Our Publisher Says Aloha After 45 Years in Local Media
BOSS Survey Paradox: Results vs. Optimism