1.9.2023
TOP STORIES
Hefty subsidies continue for Hawai'i's state-run hospitals
The transfer of three Maui County hospitals to Kaiser Permanente raised expectations that more state-run facilities could be privatized. But the chief executive of Hawaii Health Systems Corp., which serves rural areas, said there has been little interest from the private sector. Star-Advertiser.



Hawai'i is struggling to meet a deadline to reduce leased office space


Act 219, which was approved in 2021, praised the use of pandemic-triggered telework and mandated a 10% reduction in leased office space by 2026. Despite the law, the amount of space leased by the state has actually increased. Civil Beat.



Friends remember Danny Kaleikini, 85


The legendary Hawai'i entertainer was remembered for his talent as a singer, musician, actor and recording artist, and for his devotion to spreading aloha worldwide. Star-Advertiser. Maui News. Hawaii News Now.


HAWAII BUSINESS MAGAZINE
How the Construction Industry Aims to Tackle Hawai'i's Biggest Problems
Five industry leaders discuss affordable housing, climate change, adaptive reuse and a multibillion project coming to O'ahu.....
read more.
OʻAHU
Honolulu's affordable housing is disappearing prematurely
A state agency is looking to plug a leak in part of Honolulu's affordable-housing market, one in which subsidized condominiums have been converted to market-price sales or rentals despite a regulatory tool designed to defer such conversions. Star-Advertiser.



Mānoa community split over plan for senior affordable rentals


Vocal opponents of the proposed 288-unit affordable rental project to be built on the edge of the nearly 190-year-old Manoa Chinese Cemetery have launched an online petition, which now has more than 4,200 signatures. Star-Advertiser.



"Forever chemicals" detected in Leeward O'ahu water system


The state Department of Health announced that low levels of PFAS have been detected in the water system serving about 217,000 people. Hawaii News Now.



O'ahu's digital parking meters will be free for at least six months


The city says about 2,200 parking spaces will be free until it is able to replace the wireless credit card readers to match a technology upgrade by Verizon. Hawaii News Now.



Fugitive owner of embattled semi-sub company arrested after attempting to flee


Federal authorities on Friday arrested Curtiss E. Jackson, 71, the owner of a Hawai'i shipbuilding company. He was wanted by U.S. Marshals on a federal arrest warrant for violating his terms of pretrial release. Hawaii News Now. KITV4.



Why community efforts aren't enough to save O'ahu's aging cemeteries


State law requires cemeteries to be licensed and to put money in their own perpetual care fund, but only 13 of the island's more than 80 cemeteries are paying into the fund. Civil Beat.


HAWAII BUSINESS MAGAZINE
Hawaiʻi's Best Places to Work 2022
Want a better job, where workers are treated well? Consider these 68 companies and nonprofits that meet high standards for employee engagement..... read more.
HAWAIʻI ISLAND
Social media post of man urinating at Kīlauea viewing site stirs harsh backlash
Some critics say the photo underscores the need for cultural education. The person tagged in the photo, posted Saturday, has since deactivated the account.
Hawaii News Now.
TMT environmental review delayed by voluminous comments


The National Science Foundation is already behind in its effort to evaluate whether the stalled Thirty Meter Telescope project should be reinvigorated with $850,000 or more in public funds.
Star-Advertiser.




Hilo Medical Center awaits approval for $50 million expansion


In December, Gov. Josh Green announced that the funds would be included in the executive budget. Now it's up to the state Legislature to approve that allocation.
Star-Advertiser.
Tribune-Herald.




Man who leapt to death off bridge was political candidate and co-writer of famous song


David "Kawika" Crowley, the 71-year-old Hilo man who jumped from the Puueo Bridge last week, pulled off an upset win in the GOP primary election for Hawai'i's 2nd Congressional District in 2012 — while homeless — and co-wrote the song "Hawai'i '78."
Tribune-Herald.
HAWAII BUSINESS MAGAZINE
Sages Over 70: Walter Kirimitsu
He's now master of Kamehameha Schools after serving as an attorney, appellate judge, UH's general counsel and president of Saint Louis School.....
read more.
MAUI COUNTY
Developer to present update on Pulelehua housing project
A progress report on the 310-acre development will be presented Thursday at the annual West Maui Taxpayers Association meeting.
Maui Now.
Department of Education eyes tentative mid-January opening for Kūlanihāko'i High


The state DOE says it anticipates receiving temporary certificates of occupancy, despite not yet building a pedestrian underpass or overpass across Pi'ilani Highway — a condition imposed by the state Land Use Commission.
Maui News.
A dwindling Kalaupapa population honors first exiles with tributes and tears


Despite the painful history, many former Hansen's disease patients have chosen to remain even after the government freed them from quarantine.
Civil Beat.
KAUAʻI
How ranked-choice voting could be used on Kaua'i
Among new rules that took effect on Jan. 1 is ranked-choice voting in special elections. The measure could be used soon, as state Rep. Jimmy Tokioka resigned last week to join Gov. Josh Green's administration.
Garden Island.
Mahelona master plan meeting is Wednesday
State Rep. Nadine K. Nakamura invites the community to attend a meeting explaining the draft master plan for the Samuel Mahelona Memorial Hospital.
Garden Island.
DECEMBER ISSUE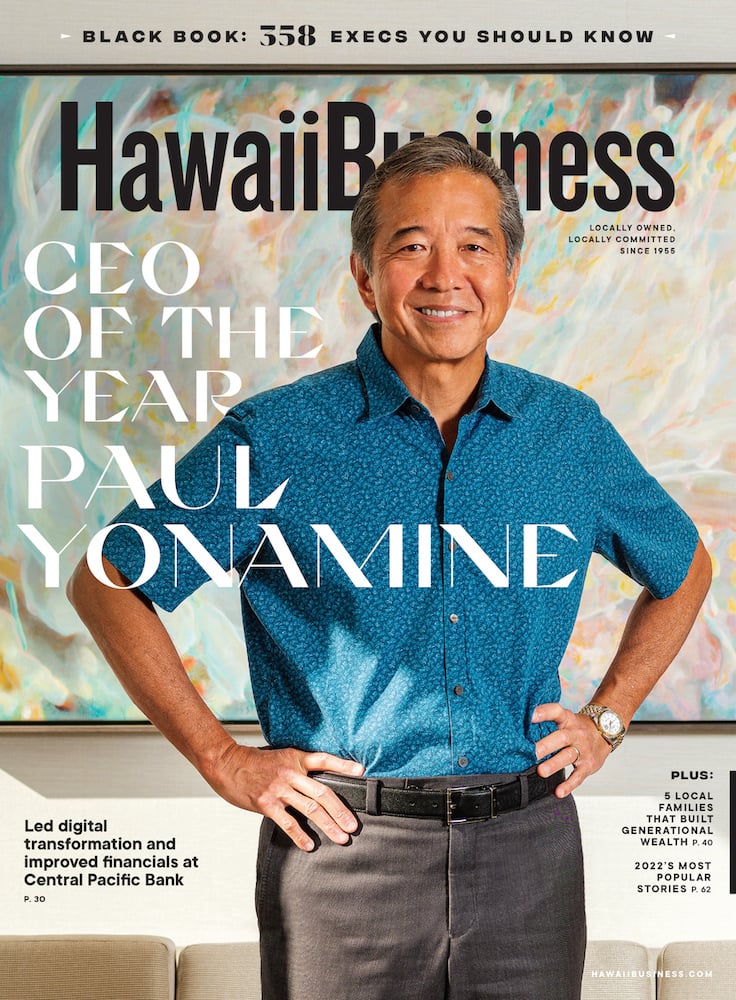 Dive into some of our latest features!
2022 CEO of the Year: Paul Yonamine of Central Pacific Bank
How 5 Hawai'i Families Built Generational Wealth
Our Publisher Says Aloha After 45 Years in Local Media
BOSS Survey Paradox: Results vs. Optimism