12.16.2022
TOP STORIES
Hawai'i tourism could soften with mainland pullback
Hawai'i should see nearly 9.7 million visitors in 2023 but also some cooling in the state's biggest economic driver, according to a report from the University of Hawai'i Economic Research Organization. Star-Advertiser.



Hawai'i among healthiest states, new survey reports


Hawai'i and Connecticut tied for fourth place in the United Health Foundation's annual ranking of states for their overall health, behind Vermont at No. 3, Massachusetts at No. 2 and New Hampshire at No. 1. Star-Advertiser.



As hospitals fill up, other health services falter


The Healthcare Association of Hawai'i said hospitals are averaging more than 24 hundred patients a day, which is 400 more than the average before the pandemic. KHON2. KITV4.



Wespac will have to pay back more than $800k of mishandled federal money


NOAA says its review revealed the council's "pattern of failure to comply," and that it could withhold future funding if the money isn't paid back. In recent years, the primary source of funding has come from Hawai'i's longline fishermen through deals that let them fish for several thousand tons of additional tuna beyond their quota limits. Civil Beat.



Hawai'i's prison medical records system has reached a point of 'absolute crisis'


The continued failure of the electronic system has complicated efforts to provide inmates with the latest Covid-19 booster shot. Civil Beat.


HAWAII BUSINESS MAGAZINE
BOSS Survey Paradox: Results vs. Optimism
421 business owners and execs say revenue, profit and employee counts are up, but optimism about Hawai'i's economy is falling.....
read more.
OʻAHU
Honolulu teacher violated ethics by accepting $16,600 from school volunteer
The Moanalua Elementary teacher has to pay back the funds and may face further disciplinary action. Civil Beat.



Jiro Sumada returns to Honolulu's planning department as deputy director


Sumada previously held the position between 2010 and 2013. For a brief time, he also served as the department's acting director. Hawaii Public Radio.



Health clinic for military families affected by Red Hill fuel spill to open in January


Officials said service members and their families who are experiencing chronic symptoms that may be related to the Red Hill fuel spill can schedule an appointment beginning Dec. 27. Hawaii News Now. KHON2.



Stadium authority says they can pull off redevelopment plan. Not everyone agrees


Now that Gov. Josh Green has OK'd the redevelopment of Aloha Stadium and the 70 acres around it, Stadium Authority leaders are defending the project and their ability to control costs. Hawaii News Now.



Arizona prison that houses Hawai'i inmates could influence design of long-stalled O'ahu jail


A private prison in the middle of the Arizona desert could offer some design solutions for the state ― should a new jail be built on O'ahu. Hawaii News Now.



Diamond Head Theatre ready to hit the stage


Construction is complete at the new Diamond Head Theatre and is almost ready to be used as they gather the finishing touches. KHON2.


HAWAII BUSINESS MAGAZINE
Tracking Hawai'i Paychecks Versus Living Costs Since 1969
To see if people are better off than their grandparents, we compared wages after inflation, debt loads, where people spent their money and more...... read more.
HAWAIʻI ISLAND
Parker Ranch sued over farmland wildfire
Fourteen Hawaiian homesteaders filed a lawsuit Thursday against Parker Ranch Inc. and its contractor seeking damages, which include $40 million just to replace topsoil on 500 acres of pastureland damaged by the massive 2021 Waimea fire — said to be the largest wildfire in state history.
Star-Advertiser.
West Hawaii Today.
Hawaii News Now.




Lawsuit alleges bad behavior by Hilo police


Christopher Kagawa, who co-owned Infinity Concrete Pumping in Hilo for more than a decade, is suing the Hawai'i Police Department and two of its officers, claiming he was wrongly arrested, his civil rights were violated, one of his firearms was stolen after a search of his home, and police tampered with his cellphone.
Tribune-Herald.




Is hiring process for Hawaiʻi Police Chief transparent if 40 applicants remain anonymous?


The Hawai'i County Police Commission Chair John Bertsch said transparency was paramount in the process to hire the next police chief. But while four finalists for the position are being interviewed at public meetings, it is unlikely the public will ever know the identities of the other 40 applicants.
Big Island Now.




Response to Mauna Loa eruption cost county nearly $400K


Between Nov. 27, when the eruption began, and Tuesday, various county departments including the Hawai'i Police Department, Hawai'i County Civil Defense and the county Department of Public Works spent approximately $392,000 responding to the eruption.
Tribune-Herald.
Hawaii News Now.
KHON2
Big Island Now.
Big Island Video News.




Sand removal set for Bayfront Highway


Work will begin next week to remove a large berm of sand on the makai side of Bayfront Highway in Hilo. The highway and sections of Kamehameha Avenue were closed in late November due to high wind and surf, which deposited sand and other debris on the road.
Tribune-Herald.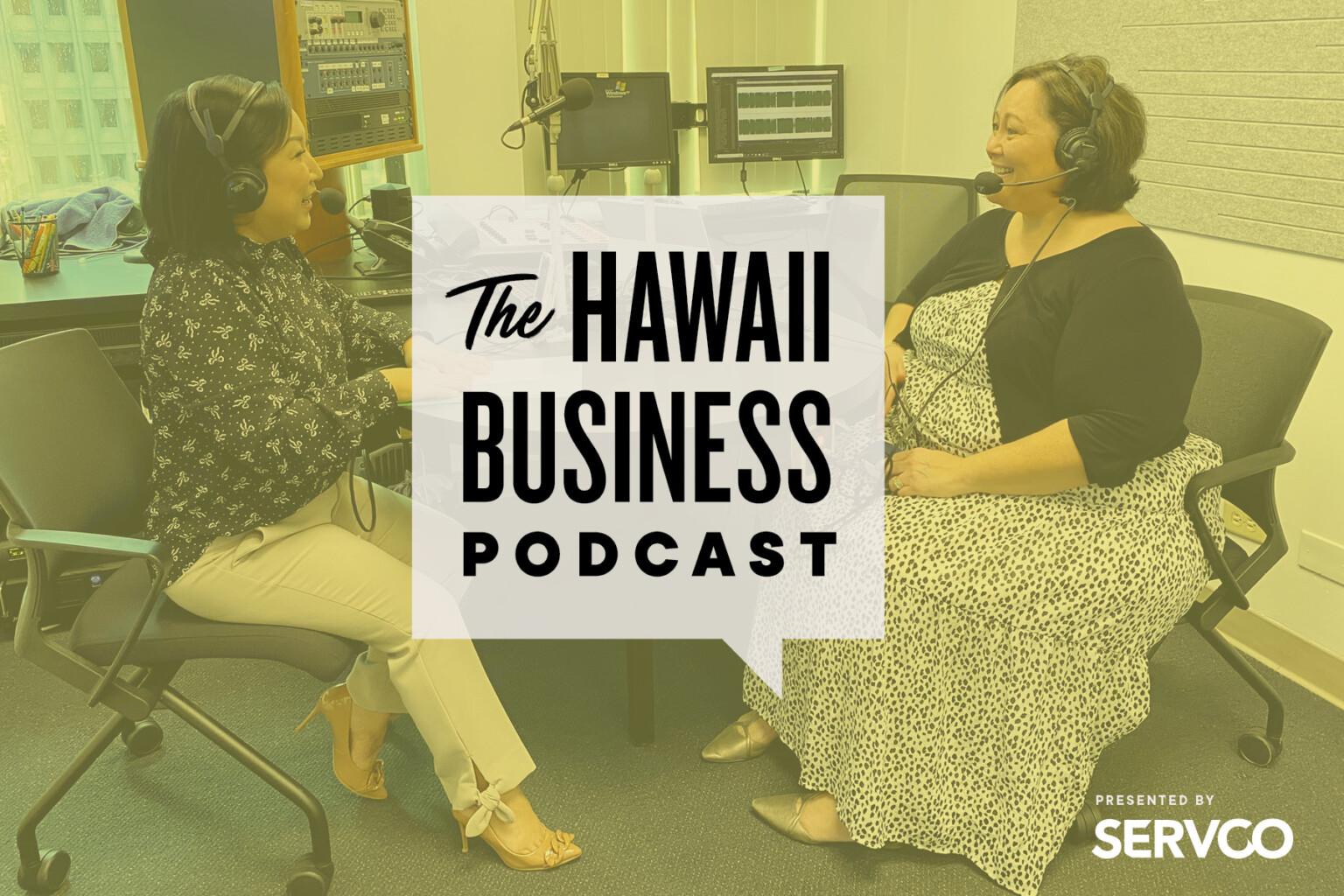 HAWAII BUSINESS MAGAZINE
Paddy Kauhane Aims to Help Hawai'i's Youth Reach Their Full Potential
Paddy Kauhane has spent 35 years working at nonprofits. Under her leadership, the Boys and Girls Club of Hawaii launched a new cohort-based mentoring program focused on on-time graduation from high school and career exploration.
Tune in now!
MAUI COUNTY
Coast Guard search underway for medical transport plane that crashed off Maui
The incident happened just before 9:30 p.m. Thursday. Officials said three crew members were onboard. There was no patient in the aircraft.
Hawaii News Now.




Committee launches OpenGov Maui FY23 budget website


The website was created to showcase Maui County's financial plan for the fiscal year, which started July 1, 2022 and runs through June 30, 2023.
Maui Now.




Maui voters created new community water authorities. Here's what happens next


Maui County residents can apply to serve on the board that will run the new East Maui Community Water Authority.
Civil Beat.




Maui County's unemployment rate rose to 4.3% in November 2022


Maui County's unemployment rate for November rose to 4.3%, which was up .4% in October and higher than the statewide unemployment rate of 4% and the US rate of 3.4%, according to the Hawai'i State Department of Business, Economic Development & Tourism.
Maui Now.
KAUAʻI
2 hurt in Lihue plane crash; commercial flights not affected
Two people were seriously injured around noon Thursday when a single-engine Beechcraft BE77 crashed just after takeoff from Lihue Airport.
Star-Advertiser.
Garden Island.
Kauai Now.
Hawaii News Now.
KHON2.




Wailuā Homesteads bridge repairs complete


Temporary repairs to Yasutake Bridge, located on Kamalu Road in Wailuā on the East Side of Kaua'i, have been completed.
Kauai Now.
DECEMBER ISSUE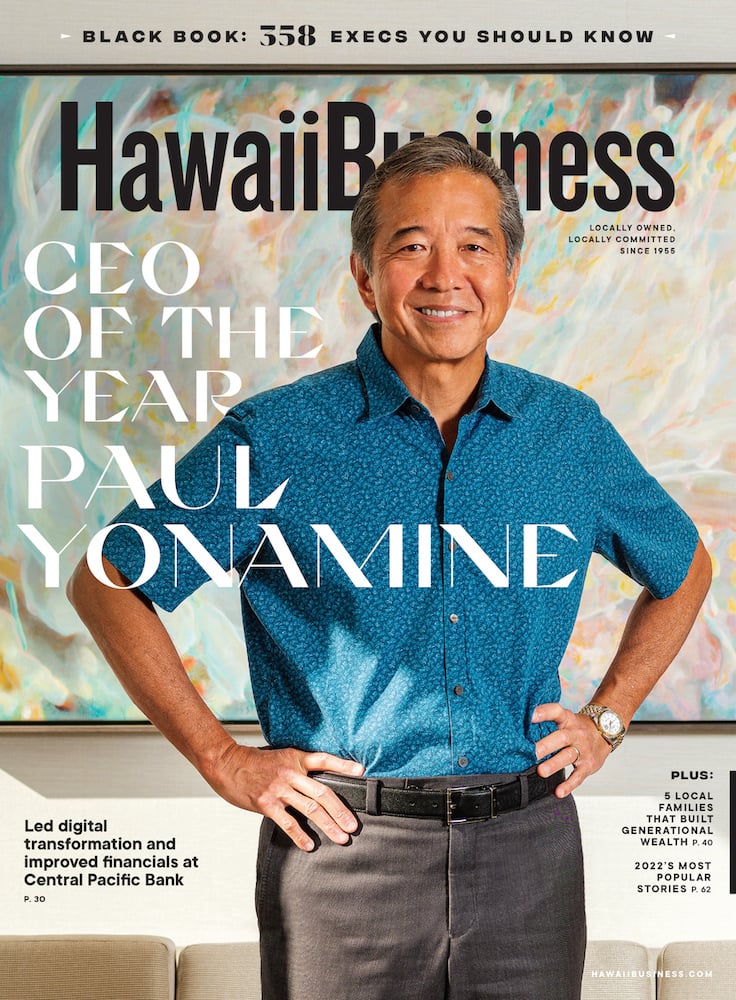 Dive into some of our latest features!
2022 CEO of the Year: Paul Yonamine of Central Pacific Bank
How 5 Hawai'i Families Built Generational Wealth
Our Publisher Says Aloha After 45 Years in Local Media
BOSS Survey Paradox: Results vs. Optimism