10.21.21
TOP STORIES
As Hawai'i welcomes visitors back, a battle brews between union and hotels
The union is accusing the hotels of violating their contract by not bringing back enough workers. It said hotels have cut back 30% of the worker's hours — including in July and August when tourism bounced back to pre-pandemic levels.
KHON2.
Teachers union files complaint to force Hawai'i officials to bargain over Covid-19 safety protocols
The union said among the problems are inconsistent quarantine protocols for students, which leave teachers to determine close contacts; limited access to distance learning options; and issues with staffing amid a severe substitute shortage.
Star-Advertiser.
Hawaii News Now.
KHON2.
'Extremely alarming' test scores show challenges ahead for Hawai'i schools
Hawai'i's public school students suffered dramatic drops in proficiency in core subjects in the nearly two years since the Covid-19 pandemic began, reflecting severe setbacks in academic progress ahead of the resumption of full in-person learning in August.
Civil Beat.
Hawaiian language immersion students get distance learning option 2 months into the school year
The Department of Education is recruiting Hawaiian language speakers to help stand up the state's first-ever Hawaiian Immersion Distance Learning Program. But officials say finding qualified teachers who speak ʻōlelo Hawaiʻi or the Hawaiian language was a challenge even before the pandemic.
Hawaii Public Radio.

Elementary age kids in Hawai'i weeks away from being eligible for vaccine
Children between the ages of 5 and 11 are just weeks away from being eligible for the Pfizer vaccine. In Hawai'i, 119,000 keiki fall into that age group. Hawaii News Now. KHON2.



Kaiser healthcare workers vote in favor of strike after failed contract negotiations


Following stalled contract negotiations, Kaiser Permanente Hawai'i workers represented by Unite Here Local 5 voted in favor of striking. The union said 93% of healthcare workers, which included nearly 2,000 employees, voted to authorize a strike. Hawaii News Now.



Biden's spending bill could be a 'game changer' for housing in Hawai'i


The infrastructure bill that the U.S. Senate is debating has the potential to make a huge dent in Hawai'i's housing needs, according to affordable housing advocates who have analyzed the version of the measure that passed the U.S. House. Civil Beat.



More than 1M Hawai'i residents have completed Covid-19 vaccinations


This milestone has been reached as the number of daily coronavirus cases in Hawai'i continues on a downward trend. The 7-day average of new cases is at 119, and the average positivity rate is at 1.7%. Star-Advertiser. Tribune-Herald. Big Island Now. Maui Now. KITV4.

Lt. Gov. Josh Green favors no restrictions on outdoor gatherings for vaccinated. Tribune-Herald.
HAWAII BUSINESS MAGAZINE
The Future of Hawaiʻi's Economy is Female – Wahine Forum 2021
Local women entrepreneurs, Robynne Maiʻi, Chef and Owner of Fete, Melissa Bow, Owner of Via Gelato and Amber Thibaut, Founder of Coco Moon will share how theyʻve paved their own paths in their respective fields and ways they stayed true to themselves and pushed forward with intention. Catherine Toth Fox of HAWAII Magazine will moderate this insightful session.
Register Now!
OʻAHU
Legislative proposal carrying a city hotel tax advances
A measure that would implement a city hotel tax, with a portion of revenue slated to flow to rail transit, advanced during a City Council committee meeting Wednesday. A 3% increase in the Transient Accommodations Tax could bring in $50 million to $80 million each year. Star-Advertiser. Hawaii News Now.



Legal opinion affecting 1,800 O'ahu landowners is secret for now


The Land Use Commission today is scheduled to discuss the attorney general's analysis on whether the City and County of Honolulu followed the state's Important Agricultural Lands law when crafting a plan to impose the designation on 12% of O'ahu's land, primarily belonging to small landowners. Civil Beat.



Key City Council committee advances funding for expanded lifeguard hours


A key City Council committee approved a plan Wednesday to provide more than $500,000 for the city's dawn to dusk lifeguard hours. The city needs Council approval to transfer money it saved from vacant positions to hire 15 Ocean Safety contract workers. Hawaii News Now. KHON2.



Red Hill decision delayed for probe of Navy's alleged lack of disclosure


The Hawai'i Department of Health is delaying a decision on the U.S. Navy's Red Hill fuel facility permit application as health officials investigate allegations that the Navy failed to disclose the full extent of its fuel pipeline network and the facility's "corrosion history." Civil Beat.
WAHINE FORUM 2021
Hawaii Dental Service Continues to Believe in the Power of Wahine
Mark Yamakawa, President and CEO of Hawaii Dental Service shares his company's belief in the power of women leading our communities towards a brighter future of economic resilience, innovation and sustainability... Learn more.
HAWAIʻI ISLAND
Council eyes state support for wastewater issues
A resolution discussed at Wednesday's council meeting would urge the state legislature to set funding for wastewater management projects around the state as one of its legislative goals next year.
Tribune-Herald.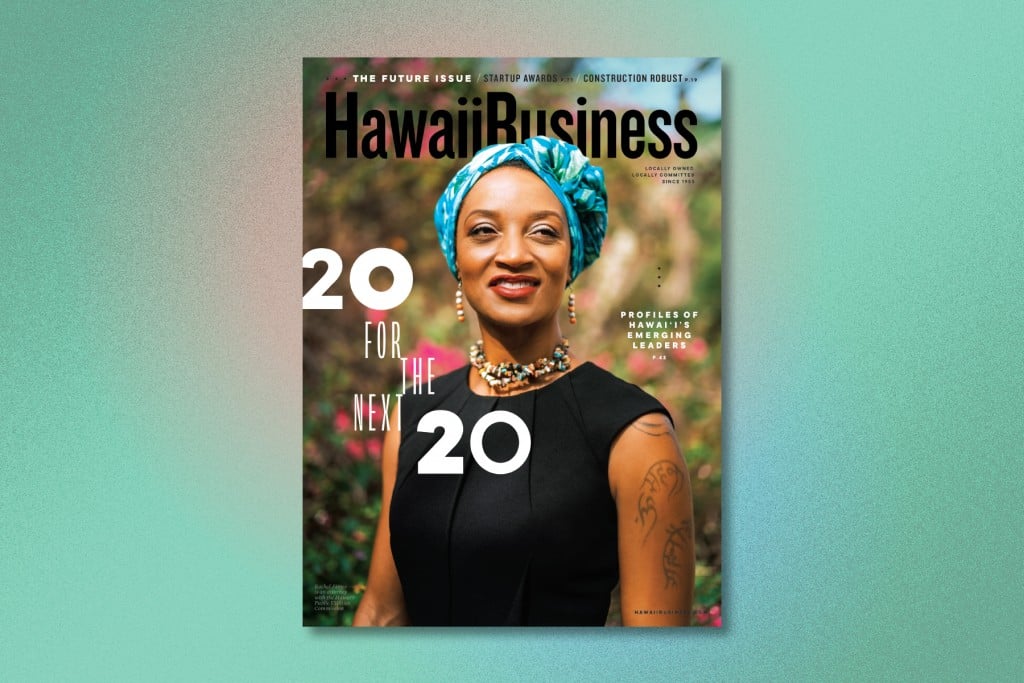 HAWAII BUSINESS MAGAZINE
Seeking Nominations for "20 for the Next 20"
Hawaii Business Magazine is accepting nominations for the 2022 cohort of 20 for the Next 20: Hawai'i's People to Watch. We are seeking individuals who have already accomplished a lot in Hawai'i and have the potential to do even more over the next 20 years...
read more.
MAUI COUNTY
Hawai'i senators visit Mahi Pono on Maui, explore strategies to stabilize economy
The Senate Committee on Ways and Means conducted a site visit today of Mahi Pono's farming operations in Central Maui. Since opening in 2018, Mahi Pono transformed 41,000 acres of vacant former sugar cane land in Central Maui into a hub of diversified agriculture.
Maui Now.
Hawaii News Now.
Maui police plan new 'Citizen's Academy'
The department's community relations section has plans to set up a Citizen's Academy starting in January that gives people ages 18-years and older a window into the life of a police cadet.
Civil Beat.
KAUAʻI
Kaua'i setting aside TAT funds for vehicles, wages
A bill that would appropriate $9 million in county Transient Accommodation Tax revenues passed first reading at the meeting of the Kaua'i County Council yesterday. Roughly $8.385 million of the revenues would be added to the county's general fund.
Garden Island.
Kaua'i Target opens early in Lihu'e
The newest Target, its eighth in Hawai'i since 2009, will be open seven days a week. It is located in the Kukui Marketplace, adjacent to the Kukui Grove Center.
Garden Island.
OCTOBER 2021 ISSUE
Dive into some of our latest features!
Grandparents Help Hawaiʻi Parents Get the Job Done
How Will Urban Honolulu Deal with the Rising Ocean?
Tattoos in the Workplace Are an Evolving Issue in Hawai'i
How Nine Women Broke Through Tech's Glass Ceiling